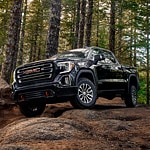 The GMC Sierra 1500 offers a wealth of exterior design amenities that are meant to appeal to the most discerning, style-conscious driver. Our team is pleased to introduce this year's Sierra 1500 models to the residents of Storm Lake, and we hope that you'll come by as soon as possible to check out this popular light-duty pickup truck for yourself.
From the impressively designed front grille to the sturdy rear bumper, the Sierra 1500 conveys power and prestige. Brilliant LED headlamps shed ample light on the road ahead while at the same time putting on an eye-catching display.
The cargo bed is equipped with a multi-functional tailgate that makes loading and unloading work gear, sporting equipment and other heavy items a breeze. The rear bumper also provides a convenient step that supplies easy access to items in the bed without the hassle of having to climb all the way in.