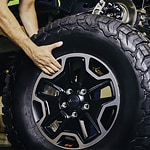 Chrysler offers some of the best benefits of all its competitors when it comes to their vehicles. One great addition is the Mopar Vehicle Protection that covers the Road Hazard Tire & Wheel Protection. This helps keep your tires and wheels protected when driving in less than favorable conditions causes damage.
This plan offers full repair and coverage of all four tires when there is damage due to hazardous road conditions. This also includes the cost of mounting, balancing and stems. This vehicle protection option covers damages that may come from curbs, potholes, or other road conditions that are considered hazardous while driving. This protection even covers the damage of the tire pressure sensor gauge that is damaged from the hazardous conditions.
These great benefits are what make Chrysler one of the leaders when it comes to warranty and protection plans. Come to Edwards of Storm Lake and learn more about these benefits.